To celebrate the launch of the
podcast: "An Introduction to English Wine"
Win over £300 of English Wine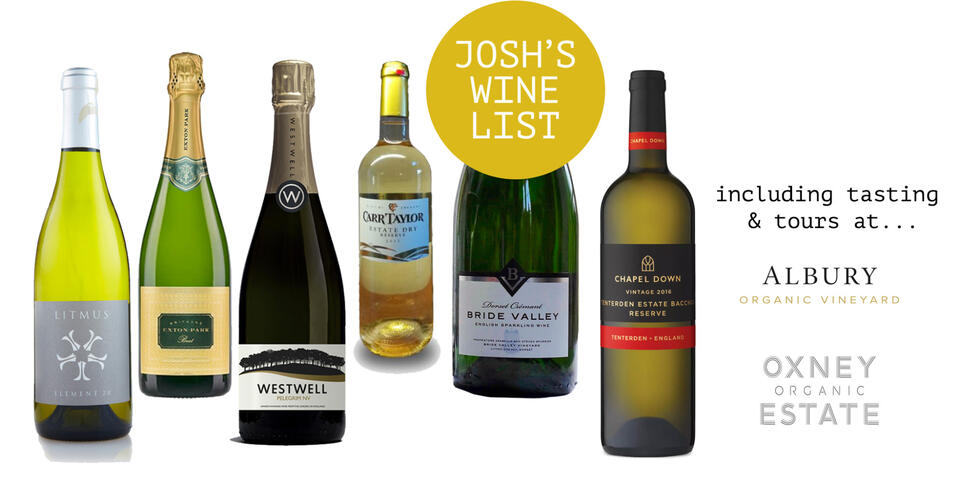 'An Introduction to English Wine' podcast launches on 20th December 2018.
2018 was the vintage of a century for English wine. Most producers reported the largest crop ever, with quality at an all time high.
This six-part podcast explores different regions within England and features interviews with 17 winemakers.
Enter the raffle to win by signing up with your email below.

Invite friends and earn extra raffle tickets.

Competition closes: 31st December
By signing up, you will join Josh's Wine List: a free weekly wine newsletter.
What you can win
Estate Dry, NV (worth £11.99)

David Carr Taylor, Carr Taylor, East Sussex (episode 1)
Rosé, NV (worth £9.99)
David Carr Taylor, Carr Taylor, East Sussex (episode 1)
Tenterden Estate Bacchus Reserve, 2016 (worth £16.99)
Josh Donaghay-Spire, Chapel Down (episode 2)
Pelegrim, NV (worth £26.95)
Adrian Pike, Westwell, Kent (episode 2)
Litmus Element 20, 2013 (worth £20)
John Worontschak, Litmus Wines, Surrey (episode 3)
Black Chalk Classic, 2015 (worth £35)
Jacob Leadley, Black Chalk, Hampshire (episode 4)
Exton Park Brut Reserve, NV (worth £27.95)
Corinne Seely, Exton Park, Hampshire (episode 4)
Bluestone Classic Cuvee, 2015 (worth £35)
Natt McConnell, Bluestone Vineyards, Wiltshire (episode 5)
Dorset Crémant Brut, NV (worth £28.95)
Steven Spurrier, Bride Valley, Dorset (episode 5)
Vineyard and Winery Tour for Two (worth £40)
Oxney Organic Estate, East Sussex (episode 1)
Tour and Tasting for two people (worth £30)
Albury Organic Vineyard, Surrey (episode 3)
Runner's Up Prize
Litmus Element 20, 2013 (worth £20)
John Worontschak, Litmus Wines, Surrey (episode 3)